Shadetee's nursery is currently open to docents, groups, individuals, special requests as well as our "adopt-a-nursery" participants.  Events are held on Saturdays only from 8:30 a.m. to 11:00 a.m. and volunteers will receive community service hours (if required).   Volunteers will need to wear closed toes shoes, and clothes that can get dirty.  If it rains in the morning, the event will be cancelled as the nursery is outdoors.  The nursery will be closed on holiday weekends as well.
If individuals / groups are interested in attending an event (s) or becoming more involved with our "adopt-a-nursery" programs (as noted in the website),  please email Leslie Bonkowski to schedule a date at bonkowsl@irwd.com
Upon entering the nursery, volunteers must provide a  Waiver of Liability.   Either bring a copy with you, or fill one out at the kiosk upon entering the nursery. See link below:
Shadetree Volunteer Waiver and Assumption of Risk re COVID-19_. pdf
Also, you may park inside of the nursery, just drive slowly upon entering, and park at the end near the white trailer.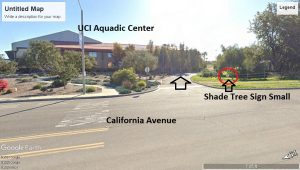 Thank you for your interest in our organization!
Shadetree Board of Directors