Shadetee's nursery is currently open to docents, groups, individuals, special requests as well as our adopt-a-nursery participants.  If individuals are interested in becoming more involved with either of these programs, please email Leslie Bonkowski at bonkowsl@irwd.com
Upon entering the nursery, volunteers must provide a  Waiver of Liability.   Either bring a copy with you, or fill one out at the kiosk upon entering the nursery. See link below:
Shadetree Volunteer Waiver and Assumption of Risk re COVID-19_. pdf
Also, you may park inside of the nursery, just drive slowly upon entering, and park at the end near the white trailer.   See maps for location: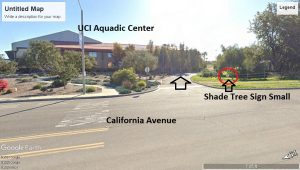 Thank you for your interest in our organization!
Shadetree Board of Directors