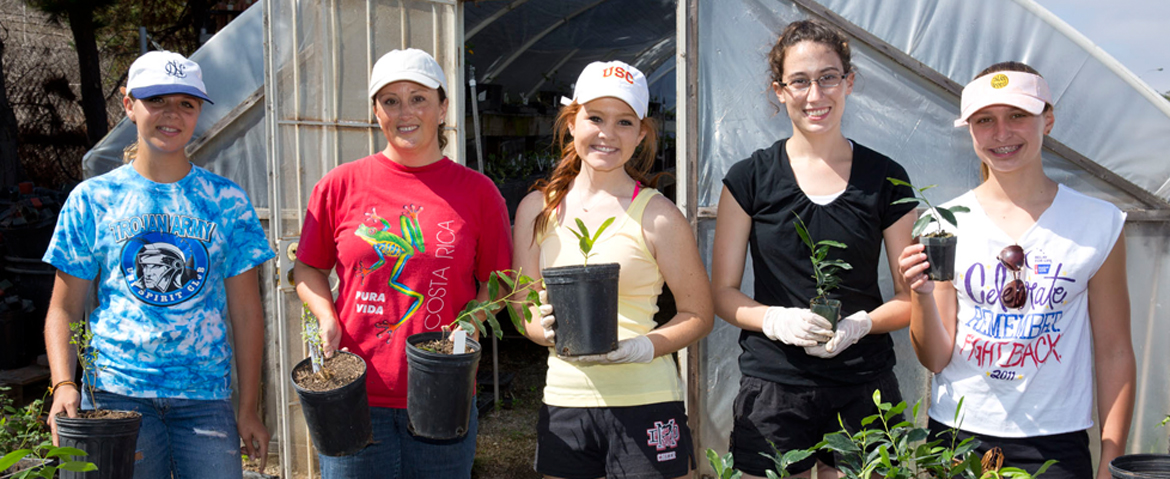 Shadetree Partnership is seeking "team leaders" to direct and manage volunteers at monthly nursery events.  If you like to work with volunteers and want to hone your leadership skills, please contact Victor Zamora at Zamora@irwd.com or (949) 453-5817 for details. No experience is necessary; we will train you during our event. The time commitment is three hours per month which qualify you also to receive community service hours. As a docent, you can be featured on our website describing your experience in this leadership position.
It would be great to have you as a member of our Shadetree Partnership team!
Testimonials
We asked one of our docents, John Boone , a few questions about what it's like being an a Shadetree docent. Here's his response:

What inspired you to volunteer?

I was new to this community, and I believe volunteering is a great way to meet people. Volunteering also allowed me to do things I could not ordinarily do, like work in the greenhouses. I also like supporting something I believe in.

How did you first get involved with Shadetree?

I was looking for an opportunity to volunteer in horticulture and we happen to live in the faculty housing area on the UCI campus, so I drove by the nursery just about every day but didn't know what it was. I assumed it was one of the university's facilities, but I noticed a sign that said "Shadetree Nursery," so I looked it up on the internet and liked what they were doing. There was a monthly nursery event that very Saturday, so I signed up and have been going ever since.

What do you do at Shadetree?

During the week I volunteer in the greenhouses as part of the Adopt-A-Row program, where I take care of the young plants. I also propagate cuttings, tag the plants, and keep things organized. I am also one of the docents at our monthly events. I show our monthly volunteers how to upscale potted plants, stake the bigger plants, weed, and do other tasks as needed.

What do you like most about volunteering at the nursery?

I really like being around the beautiful plants, and the creatures that live around them. I also appreciate the people who work and volunteer here. They are a great bunch and fun to be around.

What do you wish other people knew about Shadetree?

I was really surprised to hear that volunteers and community groups can help Orange County grow its own trees and shrubs. These plants find homes as landscaping on public lands, such as school grounds and public parks, throughout the region.  it's fun getting your hands dirty for such a good cause.

>>>>>>>>>>>>>>>>>>>>>>>>>>>>>>>>>>>>>>>>>>>>>>>>>>>>>>>>>>>>>>>>>>>>>>>>>>>>>>>>>>>>>>>>>>>>>>>>>>>>>>

Additionally, volunteer Emma Reed attended a recent event and provided the following comments on her experience:

My Time at Shadetree Partnership

Are you interested in gardening or furthering your knowledge and experience with trees?  If so, Shadetree Partnership is the place to go. It is a wonderful way to help the community and environment while increasing your ability to plant and grow trees. While volunteering one Saturday in January, I was able to offer my services to help the nursery. Two other volunteers and I worked together to transport potted trees to a designated area organized by the type of tree. While volunteering at Shadetree, I learned many things about the environment and myself. For example, I was given a pamphlet with instructions on how to maintain a healthy tree. There were diagrams and examples shown of what to do and what not to do when raising a tree. I also learned that I enjoy gardening very much. After working there, I realized just how therapeutic it was. I found myself stress free and focused on the trees the entire time. Overall, Shadetree Partnership is wonderful place to volunteer  to discover more about the environment and  yourself.